Some people wear their hearts on their sleeves; I wear my love for kopi on my shoulder.
Like me, Kopi Dabao Bag designer and co-founder of home-grown label wheniwasfour Tan Li Ling has a penchant for the dark brown liquid goodness. She drinks two cups of kopi in a day, and prefers it to teh — ergo, this bag design!
This week, I was tasked to carry THIS iconic bag everywhere I went. From the response it got online, I was expecting eyeballs and lots of compliments. Maybe I'll be finally scouted for being an experimental fashion icon.
Day 1: Wednesday
I had to run some errands in Toa Payoh, but first I settled for lunch at a kopitiam. I drew some looks, but nobody seemed to pay much attention to my new bag. Maybe they were too distracted by my beauty.
I got up to buy a baggie of kopi-peng — the real one — and my table neighbours seemed to have noticed my matching tote. They smiled at me but went back to their conversation promptly after. Sigh. Where is the attention I signed up for?
I also realised that Singaporeans really are not used to making eye contact with strangers. I smiled at another table neighbour and he did a double take. He must have been so surprised that he did not notice the bag. Maybe I should have just kept it cool. 🤷
The bag fared a lot better when I posted an OOTD on Instagram. My friends showered me with compliments like "QT" and "SG's Safiya Nygard". I love my fans.
*****
This evening, I went to watch an S-League football match with my boyfriend Khai. We got to meet some Albirex Niigata football players after their game, because Khai was friends with the ex-manager of the Japanese club.
The team's defender Naofumi Tanaka could not stop staring at the bag. I explained that it was the Singaporean coffee baggie, and the goalkeeper's wife was so tickled.
Who knows, maybe they'll buy one before heading home to Japan.
Day 2: Thursday
FINALLY, the kopi tote got some attention when I brought it to class today.
I had responses like "Oh my God, it's the kopi bag!" and "Only you can pull off this kind of things la, Candy." I'll admit, the latter comment made me feel really good about myself. I can be kitsch too (':
Unfortunately, class was draggy and I soon found myself nodding off over my laptop.
"But you have your 'bag' of kopi!" my classmate teased.
Should have seen that coming. 🤦‍♀️
*****
I had to get a real kopi peng before my next class, but perhaps sensing my disloyalty, the kopi tote bag made it incredibly difficult to do so.
I had my laptop in one hand — not wanting to overburden the thin straps — and tried to slide my hand into the tote to get my wallet out.
The non-slip art-folio material prevented my hand from sliding easily into the bag. The tote also hung very high, making it awkward to reach into the bag when it was on my shoulder.
This would have been simpler with a standard canvas tote. 🙄
Day 3: Friday
I'm still struggling with my laptop and bottle in my hands (instead of in my tote).
This bag seriously makes you reconsider what you have to bring out for the day. I guess it might appeal to those who want to try the #minimalist lifestyle. Looks good in a flat lay too.
Unfortunately, I'm a classic hoarder. I carry a small hardcover sketchbook in my bag just in case I wanted to doodle something on the train.
And I actually need both laptop and bottle.
*****
Okay, really weird. The rubber smell of the bag seems to have transferred to my pack of mints.
*****
"Why do you have a stick in your bag?" my mom asked.
"Mom, it's a straw. Look, can you tell? It's a kopi dabao bag," I explained.
"Expensive not? Always buying new things," she replied.
O. K. 🙃🙃🙃
TBH, I think $20 is reasonable for this tote. Local novelty items are usually more expensive.
Day 4: Saturday
Took it to the swimming pool because this is, well, waterproof. Makes sense right?
The verdict? The bag won't get soaked when you carry it against your damp body after getting out of the pool! Tried and tested.
But like most totes, the bag has no 'closure' system, so it's a bit less secure. I stuffed my valuables all the way in the bottom and my sports towel on top.
I also didn't like it that the plastic tote really kept the heat in. My poor iPhone is nearly at the end of its two-year lifetime (y'all know what I mean; can we bring back Nokia-era durability please?) and I don't think the heat is very good for the battery.
*****

I had a project meeting in town and I really couldn't stand the limited storage anymore. Grudgingly, I lugged an additional leather tote to keep my jacket and laptop.
"I see that your new bag is not serving you well," my group mate commented. But it sure is serving up some looks.
Day 5: Sunday
Today it RAINED (it was more of a prolonged drizzle, but still). This weekend has been a test of the waterproof "feature" of this bag.
My friend Esna and I brought our friend Fabien – who was visiting from Paris – to an art market in Kallang, before doing some sightseeing around the civic district.
"You look like you just stepped out of the 80s," Esna said. Hunny, nostalgia is really in right now.
French boy was only politely interested in the bag, as Esna fiddled with the straw.
I got a grand total of one vendor who recognized my kopi bag and no attention at all for the rest of the day.
It really seems that the bag is only known to those who are ~in the scene~ or read Mothership articles on Facebook.
Tourists? Nope. Older people? Nope.
*****
Update: someone at the train station stared at the bag. STARED!
*cue 'Give Me Compliments' song*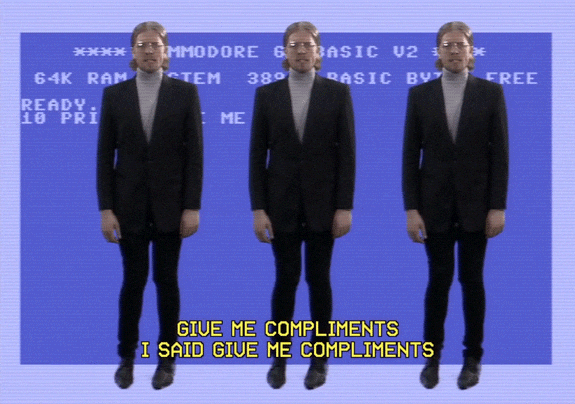 Final Thoughts
So how was my week with this kopi bag? A little painful, to be honest.
The discomfort can be summed up in this line by Khai: "Of course it's painful, the bag straps are thinner than your bra straps!"
It is indeed a valid comparison, as both the bag and the bra left marks on my shoulder at the end of the day.
I'll be honest, I was expecting at least some attention for this cute and quirky accessory, so for the amount it got me, it wasn't very worth it to use as an everyday bag. I'll take it out on days when I only need the bare minimum. I.e. wallet, lipstick, sunglasses, and a pack of tissues.
At the very least, my friends on Instagram loved the bag!
Designer Li Ling was initially doubtful when her partner suggested the idea for the kopi bag, but eventually decided it would be an interesting addition to the shop's kopitiam collection.
It's lucky she did! The bag went absolutely viral and it sold out on their online store after three days. According to their Facebook, the bag will only be restocked in early November.
They are also planning to make a teh version, which would be, um, "teh-riffic".
CONTEST: WIN a 'Kopi Dabao Bag'! Simply follow the instructions here.