Who said good food in Japan needs to be expensive?
There's no denying that we Singaporeans love all things Japanese. The land of the rising sun has always been a popular travel destination, but it comes at a steep price. A round-trip ticket to Tokyo, the country's bustling capital, will set us back by at least $800, even on a budget airline. That is a pretty sizeable amount for cash-strapped youths like us.
Thankfully, there is no need to hold yourself back from savouring delicious Japanese bites as there are in fact affordable yet delicious options. Here are some recommendations for wallet-friendly food items every self-respecting foodie must try while in Tokyo.
Ramen
Ramen is one of Japan's most celebrated dishes. Each bowl consists of a base of thick flavourful broth and springy handmade noodles.
News of great ramen stores often spread fast. Be prepared to queue for up to 30 minutes during busy hours, and don't be surprised if you feel the pressure to rush through your meal and to leave once you're done.
Pro tip: The very best ramen stores are often hidden away in alleys and require you to purchase a meal ticket from a vending machine, starting from $7.10 (¥600).
Where:
1.  Ichiran Ramen:
Shibuya: Iwamoto Building B1F 1-22-7 Jinnan Sibuya-ku
Shinjuku: Peace Building B1F 3-34-11 Shinjuku Shinjuku-ku
2. Funnji Ramen: 2-14-3, Yoyogi, Shibuya-ku
3. Ippudo Ramen: 1-3-12 Hiroo, Shibuya-ku
Bento
"Bento" is translated to "single portion take-out" or "home packed meal". Each Bento comes neatly packed in a plastic container consisting of a combination of several Japanese dishes, including meat and vegetable dishes, served with some Furikake (a savoury seasoning) over some fluffy Japanese rice.
These are available from most supermarkets, departmental and convenient stores. Remember to heat the food up as these bentos are often pre-made.
Pro tip: For even cheaper options, opt for a later dinner and hunt for bentos after 8pm, when discounts can go up to half the original price!
Where:
1. Supermarkets like Marusho and A-colle discount supermarket
2. Departmental stores like Daimaru, Seibu and Takashimaya
3. Convenience stores like 7-Eleven, Family Mart and Lawson
Tempura
Who doesn't love fried food? The Japanese tempura is known for its generous portions of ingredients covered in a crispy light batter, shallow fried to a light yellow crunchy perfection. They include meat like prawns and fish, as well as vegetables such as sweet potato, long bean and mushroom. Yum.
Where:
Tempura Tendon Tenya
Asakusa: 111-0032 Kunitachi Building, 1-9-1 Asakusa Taito-ku
Ueno: 110-0005 Ono Building, 6-13-5 Ueno Taito-ku
Daikokuya Tempura House: 1-38-10 Asakusa, Taiko-li
Sansada Tempura :1-2-2 Asakusa, Taito
Donburi
Donburi is a Japanese rice bowl dish consisting of a protein, vegetable or other ingredients simmered together and served over a bed of warm Japanese rice.
In Japan, Donburi is often served in oversized bowls.
Pro tip: Check out Rethink Café by PloomTech, a modern-style café that serves Donburi with a contemporary twist (think Poke bowls). There's also free flow servings of side dishes, which include millennial faves like onsen eggs, avocado, garden salads, roasted pumpkin with mozzarella cheese. Best of all? It's still under $10. Boom.
Where:
Rethink café by Ploomtech:

6 Chome-16-13 Jingumae, Shibuya

Sukiya: Multiple locations

Shinjuku: 3 Chome-32-2 Shinjuku, Shinjuku-ku

Matsuya: Mulitple locations

Shinjuku: 3 Chome-36-15 Shinjuku, Shinjuku-ku
Soba
Soba, also known as buckwheat noodles, is another favourite of the Japanese. Unlike ramen, soba can be served hot or cold. Hot soba is served in a clear broth while cold soba is served with a light soy dipping sauce.
Again, expect long queues and waiting time, especially at the popular stores.
Where:
Abura soba:  Multiple locations

Shibuya: 3 Chome-18-10 Shibuya, Shibuya-ku, Tōkyō-to 150-0002, Japan

Fuji soba: Multiple locations

Shinjuku: Japan, 〒160-0023 Tōkyō-to, Shinjuku-ku, 新宿区Nishishinjuku, 1 Chome−1−19−12
Sushi
Perhaps Japan's most famous export. Sushi is best when there are generous portions of fresh sashimi laid atop a ball of warm acidic Japanese rice and a hint of wasabi.
They say a truly great sushi needs no shoyu (soy sauce) to enhance it. Eating it as served in one bite highlights the overall natural sweetness of the delicate slice of fish.
Pro Tip: Look out for restaurants that have gachapon machines, where you can exchange sushi plates for the capsule machine tokens.
Where:
Rotating sushi Oedo Shinjuku Nishiguchi:

Japan, 〒160-0023 Tōkyō-to, Shinjuku-ku, 新宿区Nishishinjuku, 1 Chome−1−3−1

Kura sushi (gachapon sushi): Multiple location:

Ikebukuro: Japan, 〒171-0022 Tōkyō-to, Toshima-ku, Minamiikebukuro, 1 Chome−19−5

Sushi-ro: Japan, 〒171-0022 Tōkyō-to, Toshima-ku, Minamiikebukuro, 1 Chome−16−18,
Okonomiyaki
Okonomiyaki (yes, it's a mouthful) is a Japanese pancake made with a thick flour and nagaimo (a type of yam) batter and vegetable base, and comes with a protein of your choice, like thinly sliced beef, chicken, pork or even seafood options. A light crisp exterior with warm moist fluffy interior, paired with the sweetness of mayonnaise and saltiness of a savoury sauce makes a good okonomiyaki.
Where:
Okonomiyaki Kiji:

Japan, 〒108-0075 Tōkyō-to, Minato-ku

Okonomiyaki fukutake:

1-17-11 Higashi Yaguchi, Ota Ward, Tokyo

Naniwa:

5 Chome-15-1 Toyotamakita, Nerima, Tokyo 176-0012, Japan
Yakitori
Meat lovers rejoice! Choose from a wide variety of meat options drenched in tare sauce grilled to succulent perfection for just under $1.30 (about ¥108) each.
Many small individual stores can be found virtually everywhere, but the go-to areas for this dish are Shinjuku, Yurakucho and Shibuya. Generally, the quality and prices of the stores are pretty much the same throughout.
Where:
Yakitori alley: 〒100-0006 Tōkyō-to, Chiyoda-ku, Yūrakuchō, 2 Chome−3−3
Katsu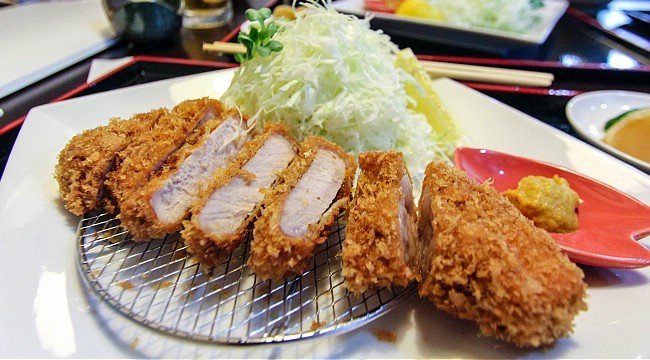 Be it torikatsu (chicken), tonkatsu (pork) or gyukatsu (beef), all of them are tasty comfort foods. Thankfully, there are places that sell really affordable katsu don (katsu with rice set) for about $7.70 (¥650).
Pro Tip: Look out for restaurants that have free flow barley rice (mixture of rice and barley), cabbage and miso soup to stretch your dollar.
Where:
Torikatsu: Torikatsu chicken shibuya  

Japan, 〒150-0043 Tokyo, Shibuya, Dogenzaka, 2 Chome−16−19

Tonkatsu: Tonkatsu wako (multiple location)

Shinjuku: 1 Chome-1-3 Nishishinjuku, Shinjuku-ku, Tōkyō-to 160-0023, Japan

Gyukatsu: gyukatsu motomura

Japan, 〒150-0002 Tokyo, Shibuya, 3 Chome−18−10
Takoyaki
Famously known as the "octopus balls" or "Tako balls", we are all too familiar with this street food that we often eat on the go. They are bite sized Japanese snacks made from a wheat-based batter, and cooked in a specially molded hot plate. The balls are typically filled with ingredients like sliced octopus, chicken, bacon and tempura scraps. The balls are then topped with generous serving of takoyaki sauce and green onion.
While many options are available for the filling, the original octopus filling is by far the best and most value for money. Where else do you even get octopus at such a low cost? These are truly balls of oral delight.
Where:
Gindaco Takoyaki: Japan, 〒150-0001 Tokyo, Shibuya, Jingumae, 1 Chome−14−24

Ginza fukuyoshi: 3 Chome-12-18 Ginza, Chūō, Tokyo 104-0061

Tempu shibuya:

1-5 Sarugaku-cho, Shibuya-ku, Tokyo