CORSAK and Robinson discuss their creative processes, love for Asian food and the inspiration behind their latest single, 'GLOW'.
CORSAK is a Chinese DJ known for his upbeat and catchy tracks. His debut single, 'Reverse' has been featured in over 2 million user-generated videos on Tik Tok. Based on the other side of the globe is Robinson, a Kiwi singer-songwriter, known for her versatile vocals that are capable of conveying deep emotions as she belts out memorable melodies. It thus came as a surprise when the duo released a song together.
But CORSAK and Robinson may just be the cutest duo that pop music has seen in recent years. Already, with their quirky Instagram stories depicting how they deal with jet lag (read: jamming in their hotel room with CORSAK's epic piano skills) and their unapologetic #OOTDs taken around Singapore, it is not hard to see (even through a screen) the chemistry and friendship between the two.
Last week, I was able to witness their palpable chemistry firsthand as I met with the charismatic Shanghai-based producer and New Zealand singer-songwriter in a cosy space at the swanky restaurant, 1880, to chat about their latest single, 'GLOW'.
ZYRUP: Thank you for speaking with us and welcome to Singapore! How has it been so far?
CORSAK: It has been amazing, besides the weather. (jokingly)
Robinson: A lot of rain and the humidity! How do you guys deal with it? [Singapore] is so different from where I've been before. And I love food, so yesterday, we just ate so much.
And Robinson, we saw from your Instagram stories that you tried Chinese food yesterday! How did you like it?
R: OMG, it was amazing.
C: She almost ate the whole Peking duck.
R: I mean, once it is gone, you just pretend that you haven't eaten that much. Oh and the crepe… and the pork! Oh my god! But I couldn't walk after that. I was like, "I am going to sleep for 5 years!"
You guys have also been taking many photos in Singapore. What's your favourite place so far?
R: Chinatown was amazing. Loved it.
Let's talk about 'GLOW'. It was released just a few days ago but it already has almost 100,000 streams on Spotify, and was also featured on Spotify's 'It's A Hit' playlist. How do you feel about the response so far?
R: Wow, so many people! I didn't know that. (laughs)
C: Yeah, I didn't know that.
R: It's a really good start. It sounds like a "mom" thing to say, but I feel like it goes to show how crazy the Internet is and Spotify, like how fast things reach people. It is really amazing.
So CORSAK, what actually inspired you to create 'GLOW'?
C: I wanted to create something very melodic with the bass and to create a beautiful melody. I wanted to do something beautiful with the vibe, the lyrics, and with the strings.
R: The piano part is really lovely as well. It is like a puzzle, isn't it? Trying to figure which part goes together. Writing music is definitely a puzzle.
C: Yes! For the verse, I struggled a little bit initially.
R: Oh, why is that? (laughs) It's like, now I am the interviewer.
C: Sometimes, the riffs are too strong for the verse and maybe for the hook too. We should keep it flat.
R: So then it's like a surprise when the hook comes in. I feel you.
How did 'GLOW' in English come together?
R: You wrote the Chinese version first, right?
C: Yeah, I think so. Then we had a demo and I think my colleague sent it to [Robinson].
R: I listened to it and I thought it was so beautiful.
C: Oh, when I heard you liked it, I was so excited. Because I had already checked all of your [previous works], and after I sent it to you, every day I was praying, "Oh I hope she loves it" and then finally, she replied to say she loved it.
R: I did love it, it was beautiful. So we met and went about recording and everything. But I feel like if you are recording and you feel it is really good, then you know this is meant to be! (laughs)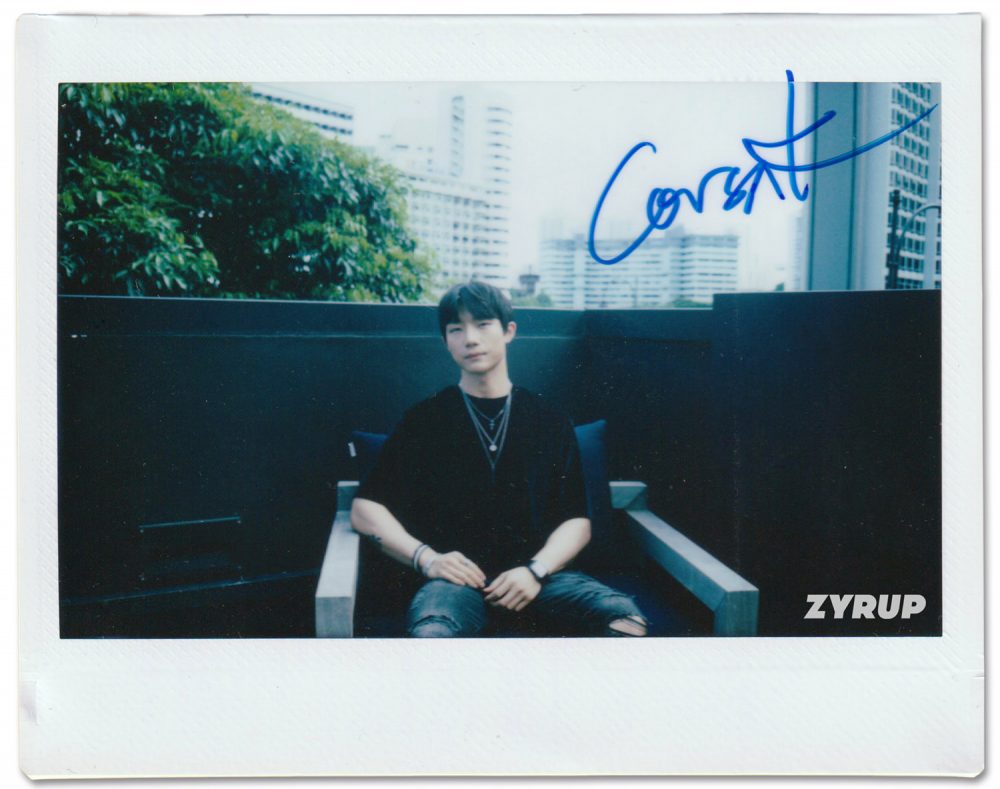 And CORSAK, we know the Chinese version was based off 'The Little Prince'. Were there any challenges that you faced when you translated it into English?
C: I think that it's the difference between Western and Eastern culture. For the Eastern culture, especially in China, people pay more attention to the lyrics. If you don't have good lyrics, people just won't listen. But if you have a good story, they will go crazy about it. So I wrote 'The Little Prince' for the Chinese version. I think that it is not so detailed and more "Eastern" with the fairytale vibe. But for the Western culture, you need something that is more related to normal life, [something that has] more detail. It should be more urban and more about relationships.
So it is based on how well you can relate it across cultures?
C: Yes!
R: Yeah, that is amazing. Obviously, cultures are different [so] they respond to things differently. It is really cool. That is a pretty amazing part about music to me.
'GLOW' is a song about pining and yearning for somebody. Now that you both are so far away from home, is there anyone in particular who you are missing right now?
R: I miss my family! I have been in London for the past month and a half before this so I haven't seen my family in so long.
C: Me too. For me, it would be my mom. I haven't seen her for like maybe two months.
R: She must be like "Where are you? Come home!" My mom is like, "Don't live in London, come live in New Zealand!" I am like, "Absolutely not, I am staying in London." I love New Zealand but I am very settled [in London]. I just feel like I have such a pull towards it. I don't know what it is exactly, but I love it. There is just so much to do; it's such a big city that is very different from where I grew up, so I feel like it is just very exciting to be there.
Describe each other in a few words.
R: Corsak is super intelligent, very dedicated and I was about to say hardworking but that is the same thing. Aaaand he is really kind. He is a nice person.
C: I am a bad guy!
R: Ah, Billie Eilish!
C: Robinson is very talented. Have you guys seen her play the piano? She can sing, play the piano, she can do everything. And she writes songs! The second thing is I can feel a vibe of mystery.
R: I love that, I'll take it!
So what was your favourite thing about working with the other person?
R: I feel like it is just really cool to travel from different parts of the world and—
C: Yeah, you travelled for 12 hours!
R: —Yeah, I travelled for a long time! But I think it is very cool that we come from such different backgrounds and we can come together to do music. That's pretty special.
Could you describe what 'GLOW' means to you?
R: I think it is very relatable. Everyone has someone that they love and miss and maybe, something didn't quite work out. 'GLOW' feels reminiscent—like you are remembering someone. It is very emotional and beautiful. And the melody of the song, even if you were just to hum it, it sounds very longing. (To CORSAK) Um, give me some words!
C: For me, I wanted to create something beautiful with beautiful melodies. I am a DJ, I play live sets which are super bomb and lit. But I want to create something that can stay for long because when you do something with a very lit beat and something with fast beats, you can get attention from people very quickly but they will also throw it out very quickly.
R: It's a longevity thing, isn't it? You want something that is steady.
C: It's like I [can] do 100 songs but people just listen to it once. I want to do one song that people will listen to it a million times.
R: You want quality over quantity.
C: Yes and only the melody can make it [stay for a long time]. You see, if you look at classical music and Bach, Mozart, Beethoven, why are people still loving it and playing it even though it is from 300 to 400 years ago?
R: I write songs and lyrics to me are so important. But [for] a lot of songs that you hear, it is the melody that drives it and you can kinda fit any story with it. If the melody is really beautiful, people will keep listening to it.
C: For me, GLOW is kind of like a small boat on the river. It not only represents love between man and woman, but it can represent love between human and nature, son and mother, between any kind of relationships. You can fill that into the boat.
R: That is a very lovely visual!
So CORSAK, 'Reverse' is one of your most popular songs and for Robinson, yours was 'Nothing to Regret'. What do you regret the most and wish to reverse?
R: Wow, that's so hard. I wish that I didn't eat as much as I did yesterday at lunch. I just wish I took it a tiny bit slower. You know when you eat very fast and there is not enough time for your brain to tell your stomach that you are full? I did that and I got up and I feel full again so that was a regret but at the same time, it wasn't a regret. So I am kinda confused about it.
C: This year, I am 30 years old. And I did a lot of other things in the industry like acting. I wish I could have met EDM and dance music earlier. I wish I didn't waste so much time to finally find my love. So that is my biggest regret.
One last question. In 'GLOW', one of the lines in the chorus go "This is not the last goodbye". Will we get to see you guys soon in Singapore again?
C: For sure.
R: Absolutely! Food is going to bring me back and the next time, I am going to bring hairspray.
Portions of this interview were edited for clarity and brevity.
Check out their latest single, GLOW, below: