Here's a (virtual) tour of ZYRUP Media's new office and studio!
From a creative youth collective started in University, we have recently restructured to ZYRUP Media, a digital media and creative house. On the consumer front, ZYRUP Media is home to an exciting line-up of podcasts, video content, and of course, ZYRUP Magazine.
To mark this exciting new chapter of ours, we decided to move into a new studio space. After months of renovations, the studio is finally ready for use, and for guests to come by. The studio may be a little snug, but every inch of the space was designed to be functional. We have shot national ad campaigns for top brands, hosted the biggest names in the local entertainment space for meals, and also launched new podcasts here.
The studio was put together with a modern-industrial (with a touch of mid-century modern) concept, while still retaining a cozy, inviting feel, not unlike that of a home. We also wanted to be as environmentally friendly as possible, while also keeping our budget low, so that meant upcycling and taking on as many second-hand items (thank you, Carousell and Facebook Marketplace) as we could gather. We also worked together with some amazing partners that helped us put together our dream studio space.
The Entrance
They say first impressions everything, so getting the entrance of the studio right was a huge priority. The massive industrial metal doors were love at first sight for the ZYRUP team (the markings on the doors seem to indicate that they have a shared history with a pastry machine manufacturer). 
One of the ZYRUP team members is a clean freak (guess who?), and he insisted on the studio space having a shoes-off policy. We found a shoe rack that not only neatly stores the footwear but also functions as a bench (which also comes in handy for deliverymen to place parcels!). Next to it, an artificial palm plant stands. In order to fit in with ZYRUP's signature black colours, it was spray-painted black, for the #vibes.
However, the highlight of the entrance is undoubtedly the lightbox signage, a gift from our lovely friends over at experiential production agency The Merry Men Works, who professionally designed, built, and helped install the signboard. Major props to them for making us look not just legit, but legit legit.
For the interior of the studio, the team decided that we would need four specific dedicated spaces: "Recreation Area", "Dining Room", "Creator Space" and "Workstations".
The Recreation Area
If you are familiar with creative people, you will know that having space to take a breather or simply just chill out is so, so important. A corner of the studio space is dedicated to just that. The cozy little section is filled with pillows, a sofa, floor cushions, a bean bag, and more cushions for the team to just sit and relax. 
Tucked in the corner, we have the pièce de résistance; a sure-fire conversation starter: a sauna-turned-phone booth. While open-office concepts are great for collaborations, they also are unfortunately prone to frustrating, disruptive noise; think colleagues who answer phone calls at their seats and everyone else being subject to the phone call too. Enough is enough, Jason! 
We picked up this 30-year-old sauna from (where else?) Carousell, and spent a few days scrubbing it down. Despite none of us having an engineering background, we also managed to successfully remove the heating components, so we don't die from the heat during a Zoom call… Oh, how morbid. And sad, really.
We then retrofitted it with new lights, sound-proofing materials, a privacy curtain, a fan for ventilation, and even a customised collapsible tabletop (for the Zoom calls!). The gorgeous, solid tabletop was an office-warming gift from our friends who started Carverwood, which produces custom wood inlays that are fully crafted in-house.
Being well-read is a priority for the team, so we have a bookshelf stocked with some highly coveted titles. One of the team members gets his books from Definitely Books by Pansing, a community for book lovers, and now shares the collection with the rest of the team. The remainder of our book collection was curated from Carousell over a period of time – all for free.
Also, peep the Game of Thrones shrine at the corner. A team member is a massive (and we mean massive) fan of the HBO series. An autographed poster of Tom Wlaschiha, who plays Jaqen H'ghar in the show, is a prized possession proudly on display (thank you, HBO Asia!).
Being in the media industry means that the entire team has to constantly consume media. That also means lots of viewing parties, be it for movies, music videos, YouTube videos, or TV shows. The Lumos Auro Home Cinema Short Throw Projector has got us covered on that front. We have enjoyed a full cinematic experience with 150-inch projection and Dolby Audio support. It has been a delight using the projector. Despite the lack of usable space, the projector still allows for crisp video projection, which is applaudable. The in-built speakers also mean there is no need for extra speakers, which comes in handy when we are trying to save space. 
Oh, and remember when we said that every inch of the studio is made functional? Well, our window blinds double up as a projector screen, too!
The Communal Spot
Next is the employee-favourite: The Communal Spot, which, as its name suggests, is where most of the socialising takes place. From a sleek Bosch refrigerator (bought off Carousell for only $60), to a Nespresso Essenza Mini and Aeroccino3 courtesy of our friend Julie Tan, the space is equipped to meet the daily needs of the team, while also able to host guests. The centerpiece of this space is a gorgeous full concrete dining table, adopted from a fellow creative from Instagram, which has allowed us to hold everything from work meetings to daily lunches, and even parties at night.
We did not have the budget to build partition walls or glass walls (what we initially wanted), nor did we have enough space for a storeroom. The solution? Placing heavy-duty industrial racks side by side to function as partitions, and using opaque storage boxes to store tools and equipment. The result is having "feature walls" that segregate spaces, while also allowing us to still keep the studio neat and uncluttered.
The Creator Space
One of the core features of the business focuses on the team creating content, and also working with fellow creators. ZYRUP Media's niche mediums are audio-visual media, so think podcasts, live-streaming, photoshoots, and video productions. With the new studio, we wanted a dedicated creator space that allow us to do all these.
When we got the space, it was basically just one large empty room (a blank canvas, if you may). Using industrial racks was one way to separate spaces, and another way would be the use of colours. The walls here are painted grey to demarcate the Creator Space, using the R. One X Paint & Primer from Raffles Paint. This paint is extra durable, antibacterial, water-resistant, and efflorescence resistant, providing continuous protection and appeal for our studio.
The podcast setup is the highlight of the Creator Space, decked out with high-tech recording equipment such as the AT-2040 Hypercardioid Dynamic Podcast Microphone and the ATH-M20x Professional Monitor Headphones from Audio-Technica. (P.S. Check out our ZYRUP podcasts on Spotify and Apple Podcasts to listen to the enhanced sound quality these state-of-the-art equipment provide!)
Recording podcasts usually takes a long time; usually up to hours on end. For the best, most comfortable recording experience, we have also amazing furniture from Ergotune and EverDesk+. 
The Ergotune Supreme Ergonomic Office Chair has an impressive 11 calibration points and DuraWeave™ Hybrid Mesh for a personalised sitting experience. You would have definitely seen rave reviews of the chair on social media by now, and we are happy to report that the chairs definitely live up to the hype. In fact, a running joke among the team is that the Creator Space is actually a satellite showroom for the chairs – many studio visitors have gushed over the chairs ("Oh! It's the Instagram chair!"), tried them out themselves, and then made the decision to purchase it.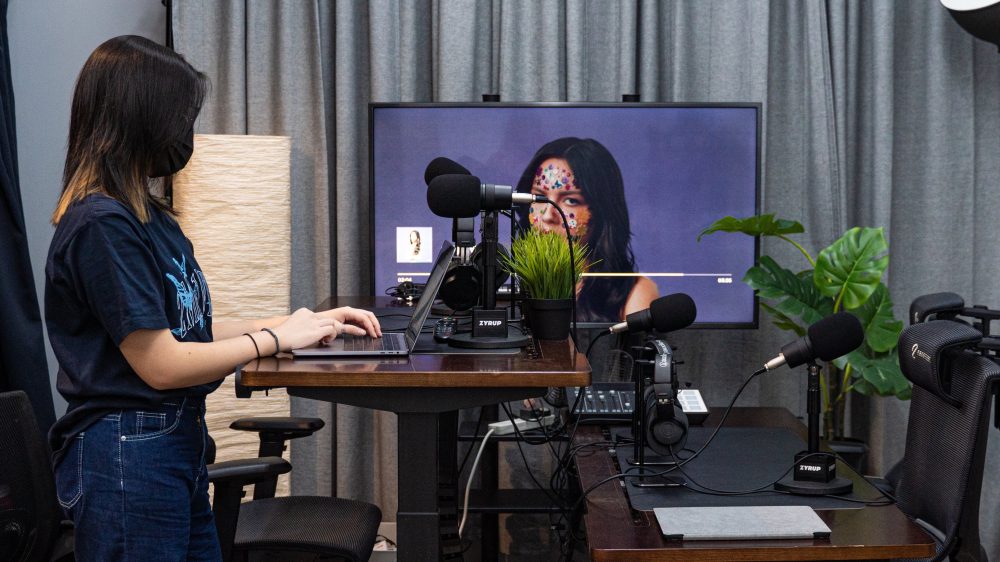 Standing tables are all the rage nowadays because of the health benefits they bring about. Many offices have started incorporating them and of course, ZYRUP is no exception. The EverDesk+ Max Ergonomic Adjustable Standing Desk takes health benefits one step further with an in-built Health Coach that nudges us into healthy desk habits by reminding us to sit and stand at preferred intervals. Team members who wish to switch up their work environment often find themselves running to the standing tables to get work done (when no podcast is recording, that is). 
By the way, Erogtune and EverDesk+ have graciously offered a discount code, just for you: use code"22+ZYRUP" for additional discounts upon checkout at both Ergotune and EverDesk+!
The Workstations
At the end of the day, despite all the fun spaces, the studio space is still, at its core, an office for the team. We have certainly come a long way from having six people squeezing and working with just two tables. The workstation area is an employee-only zone set up as an open-concept office space to facilitate collaborations and discussions. Designed to be a conducive working environment, it is segregated away from the rest of the space as well. One of the biggest gripes about open-concept offices is also the lack of privacy, so when laying out the tables, we made sure that everyone's table back-facing a wall. 
That's it! We have come to the end of the tour of ZYRUP Media's brand new studio! We are extremely excited for what's to come, and we hope that you will stick around and join us on this journey. 
Watch the office tour on YouTube here if you want to see the space in motion. Or you can even come by to hang out with us one day – just make sure you bring some beers!
Words by Fernanda Lian and Joel Lim. Photos by Ng Yi Yang, Clamus Pang, Alexzandrea Wong and Yasmin Zafrullah.
Follow ZYRUP Media (@zyrupmedia) on Instagram and hit that subscribe button on our YouTube channel for more.