The award-winning star has a new notch on her belt – host of her own podcast show. 
Fans of Joanne Peh have something new to be excited about. The award-winning actress (she picked up two consecutive Asian Television Awards for 'Best Leading Female Performance – Digital' for her role in Last Madame and Mind Jumper respectively) has launched a brand new podcast series, 'What Do I Know?'.
'What Do I Know' sees host Joanne Peh engage in intimate conversations with personalities from different fields — spiritual healers, scientists, educators, doctors, artists, actors, singers, and more. She attempts to uncover truths, deepen her understanding, and peel layers off the hardest topics that plague our modern society today. Multi-hyphenate Annette Lee and the owner of Asia's largest Barbie doll collection Jian Yang were the first two guests of the show.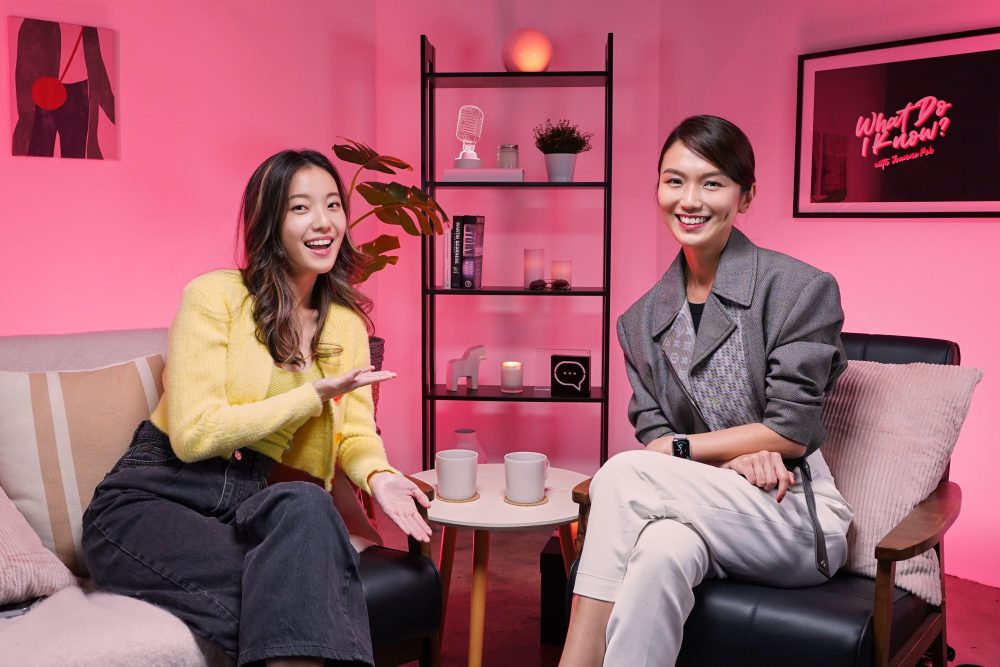 "There are so many topics and ideas out there I don't know about. Being able to seek out new perspectives is empowering, because when the situation does call for me to have a response to it, I won't be caught completely off guard. I hope to provide the audience with varied perspectives and authentic engagement and to get to know people beyond face value," Peh shares.
'What Do I Know' signals Joanne Peh's first foray into the world of podcasting – a medium that she has been a consumer of for a long time. For Joanne, a podcast is the right platform to have longer conversations, and she hopes that through the podcast, her audience will open their hearts and minds, appreciate the value of meaningful conversations and gain new insights that could benefit them physically, emotionally and spiritually.
Produced in partnership with Zodapop, the podcast production arm of ZYRUP Media, the show was conceptualised based on the premise that we don't have all the answers in the world, but listening to someone else's story can help to shed some light on our own journey towards self-discovery.
Listeners can expect an honest dive into different, sometimes difficult topics, and know that they are invited to be a part of this conversation. As a host, Joanne aims to have an open channel of communication with listeners on social media, and will take their feedback and suggestions to help shape the show as well.
"I have always been multi-passionate and curious, and have many different interests. Once I become interested in something, I want to go deeper. I also began to notice that I tend to stick with people I'm familiar with, with similar backgrounds and interests, and so the information I seek out tends to feed into this pre-existing database – but it's not a complete picture," she explains.
"Covid-19 has affected our social life and kept many of us away from social events where we have a chance to meet new people. Even when we do, we hardly get to find out more about each other at such events because it's just not the right place. So I wanted to create a more intimate platform where I could reach out to experts, thought leaders, visionaries and personalities who may be very different from me, to have a longer conversation. I want to break through my own cognitive bias and learn more," she adds.
Listen to 'What Do I Know' on Spotify, Apple Podcasts and Google Podcasts. The video version is available on Joanne's newly-launched YouTube channel, Two Happy Media. Follow the podcast on Instagram for more updates, sneak peeks and behind the scenes!