A variety of projects will be on display at ADM Show 2022, including animations, games and products all done by the students.
Singapore Art Week may be over but fret not. Art enthusiasts can look forward to Nanyang Technological University's (NTU) Faculty of Art, Design and Media's annual ADM show.  
This is a showcase of the graduating cohort's final year works. The ADM Show is a culmination and celebration of a four-year artistic and academic journey, displaying the fine talents of young creatives across six Bachelor of Fine Arts (BFA) disciplines across two pathways, Design Art and Media Art. 
ADM Show 2022: '&Beyond'
This year has seen the world adapt to new ways of living, thinking and working as it emerges from the pandemic. ADM Show 2022: & Beyond presents the works of 156 design and media graduates with renewed optimism; each of them questioning the status quo and rethinking established norms.
Armed with a fearless spirit & imagination when pushing boundaries, this collective multidisciplinary, curious and collaborative voice will present how they can drive society and the world towards enacting innovations and proposing new solutions, and how infinite possibilities are conceived through creativity and beyond.
Below are some works to look out for.
Animation
Corak Warisan describes the journey of Batik Motifs through time. In the past, Batik Motifs were relied on as talismans and also used to describe one's standing in society, but that is not the case in today's fashion climate. In this film we follow the journey of the Batik patterns and their diminishing meaning behind them.
Game
After a thousand year imprisonment, the Legendary White Snake resurfaces into a new and violent world ravaged by war. Determined to Reunite with her Husband, She must fight tooth and nail and learn to trust humanity or perish under tyrannical invading forces. Watch cut-scenes and play as the legendary White Snake in this short game Demo.
Film
Seeing Thunder is a documentary that threads on the hidden conundrums in the deaf world. Within the deaf and the hearing world is a fine line – so what's it like to live as an in-betweener? This immersive film follows two individuals as they try to unpack a stigma and perspective strongly tied to them and their world, allowing us to understand and learn how they forge their own identities within it. Essentially, redefining the perception of sound through vibrations, movements, and facial expressions – Sounds which can be interpreted and anything but heard, just like when we see thunder.
Photography
Best Left Unsaid retells and reinterprets lessons taught in Singapore's Sexuality Education and abstinence-based models, through playful and absurd manipulation of objects and materials.
Interactive Media
The Ocean We So Love is a figurative expression that highlights the challenges our ocean faces. Through acknowledging the charms of the material world – its ephemerality and expendability, this piece wants to reveal the fraught intersection between man and our ocean bodies.
Visual Communication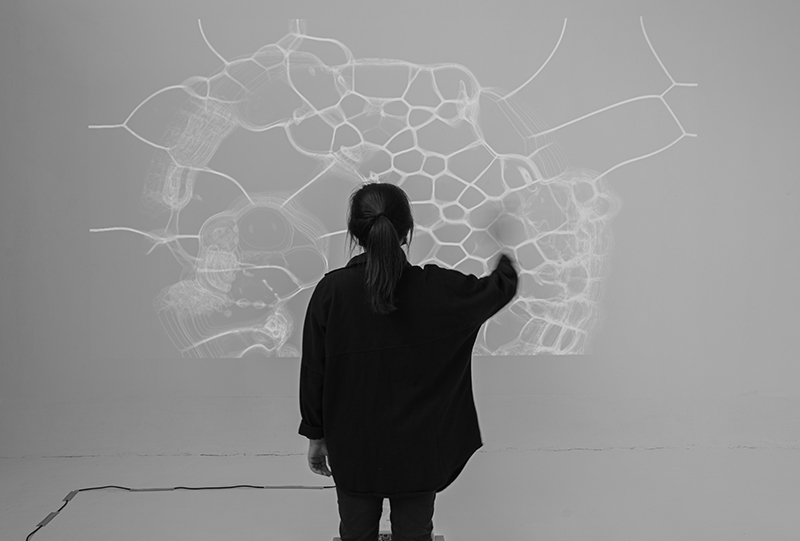 The Quantum Multiverse is an immersive audiovisual interactive art installation that uses generative visuals and sounds to explore the idea of Many-Worlds Interpretation (MWI) of Quantum Mechanics. The work is inspired by the quantum hypothesis that there is an endless number of parallel universes that exist outside of our current space-time continuum.
Product Design
Living in this fast-paced society, we are often occupied with multiple things at once. When we get too overwhelmed by the number of tasks at hand, maybe it's time to take a step back and reconnect with our inner child, bringing ourselves back to the simpler times. By focusing on the childlike quality of playfulness in adults, this project explores the idea of bringing out the inner child through play, and thus enhancing one's mental well-being.
Up until ADM Show 2022: & Beyond in May 2022, the ADM Show will be heavily publicised across various publicity channels within campus along with online platforms with a projected reach of more than 10,300 impressions and an involvement of a total of 156 final year students showcasing the best of their works. Apart from that, external online platforms will also be engaged to boost the publicity of ADM Show 2022: & Beyond where industry partners, agencies and organisations will be invited. 
You can visit the ADM Show 2022 from 15 – 29 May, 11am-8pm daily, at 37 Emerald Link, S(229313). It will be open to the public for a duration of 2 weeks. More details can be found on their website, Facebook and Instagram page.