After a two-year hiatus, the long-awaited i Light Singapore is finally back to light up Marina Bay! 
Asia's leading sustainable light festival will run from 3 to 26 June 2022 with 20 captivating light art installations that aim to spark fresh perspectives on the environment and world around us. Organised by the Urban Redevelopment Authority (URA) and presented by DBS, i Light Singapore will also offer an exciting line-up of programmes that will add to the vibrancy of the precinct while encouraging conversations on sustainability.
Curated to the theme Spark of Light, artists from 14 countries took inspiration from the colour violet to create the 20 unique and innovative artworks. Speaking to us about the reason behind the chosen colour, Festival Director and URA's Director of Place Management Mr Jason Chen explained that violet had the shortest wavelength and most powerful electromagnetic energy in the visible light spectrum, signifying the awakening of senses akin to the spark of an idea in one's mind.
Notably, the Festival will spotlight artworks that explore environmental challenges the world is facing, transforming familiar public spaces at Marina Bay and Esplanade Park into dazzling landscapes.
The team here at ZYRUP Media headed down to the festival for a quick preview and here are our 5 favourite artworks that you cannot miss!
Ruffled Ice by DP Design (Singapore)
Ruffled Ice draws attention to the excessive use of plastic packaging in our everyday lives. When such plastics are inappropriately disposed of, they are carried to the seas by winds and waterways. Ruffled Ice turns trash into visualisations of melting icebergs and ice caverns by using plastic waste collected from several organisations, including a plastic recycling company. Sculpted from redundant packaging materials, the installation highlights the enormous damage discarded plastics have on our environment.
Collective Memory by LiteWerkz (Singapore)
Collective Memory honours a milestone in the evolution of digital storage by crafting upcycled compact discs (CDs) into a shimmering landscape of reflected light. Once a shiny medium for data storage, CDs have become increasingly obsolete with the inception of new technology. Immerse in a novel spatial experience as each suspended disc, containing its own memory, interweaves with others and collectively reflect on their mirrored surfaces a host of inspiring memories that these CDs once held.
Firefly Field by TOER (The Netherlands)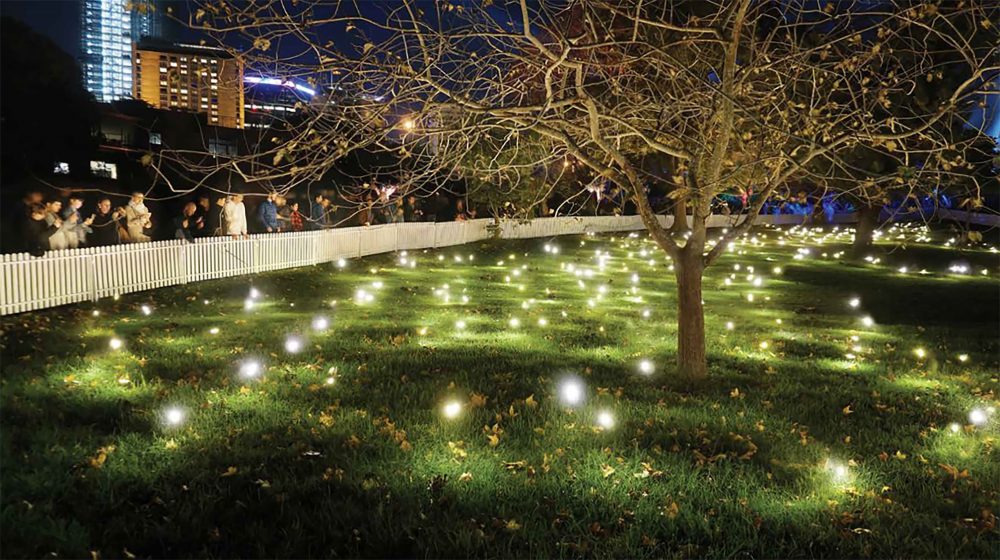 Be enchanted by Firefly Field as it simulates the ever-changing bioluminescence of fireflies when they take to the air at dusk. The cleverly designed rhythm of lights in this installation mimics the intermittent flashing pattern of fireflies, which make use of blinking displays to send optical signals and locate potential mates. Flying in an effortless electronic swarm, the alternating light points create a dynamic illuminated scene that triggers curiosity and awe of the natural world. 
Alone Together by Ping Lim, Ian Grossberg (Singapore | USA)
Alone Together documents the experience of living in isolation during the COVID-19 pandemic. Inspired by the scenes of housing estates in Singapore, it takes a peek through windows at people's lives, and tells stories that can resonate with anyone who has been confined to their homes at some point.
By capturing unforgettable and personal moments of adapting to a new normal as a nation, these vignettes reflect how the pandemic has impacted our daily lives. This projection invites you to come together and be part of this shared memory through real-time interaction.
Scribble Jam by Blake Shaw (USA)
Scribble Jam is an unconventional graffiti installation – it uses an interactive projection mapping technique to transform an urban facade into a massive digital canvas. Come contribute your doodles through a website and witness them being animated to create striking patterns accompanied by soundscapes, creating a vibrant scene of musical graffiti.
Scribble Jam redefines graffiti as a non-destructive process that does not rely on aerosol pollutants. The source code for this installation is made free and available to all at Reproducible Media Labs under the General Public Licence. Simply scan the QR code on location and contribute to the collective e-graffiti – this is your only chance to "scribble" under the Esplanade Bridge!
Alongside the light art installations, i Light Singapore will also feature the ultimate festival for those who enjoy good food and fun vibes – GastroBeats. 
This 14,200sqm Festival Village at Bayfront Event Space is impossible to miss. Decked out with a massive food-themed inflatable park, graffiti art, live performances and delicious food options from renowned local and international culinary personalities, GastroBeats has something for everyone.
The team had a chance to taste test some of the food stalls as well, and we were not disappointed. Some notable dishes were the Ribeye Steak Fritz (Truffle Kombu) from Craft' B ($16) and Chilli Crab Praffle from Fooditude ($15.90). To be honest, we did not have much expectations for the food there – after all, we were there for the installations, but we were pleasantly surprised!
GastroBeats will be open from 4pm to 10.30pm daily from 3 to 26 June 2022. Admission tickets start from $9 (not inclusive of food and drink). This is a cashless event so come prepared. Tickets are available on Klook. For more information, please visit www.gastrobeats.com.
Visit the i Light light art installations from 3rd to 26th June 2022, 7.30pm to 11.00pm daily with extended hours to 12.00am on Fridays and Saturdays.
For more exciting updates, follow i Light Singapore (@ilightsingapore) on Instagram or visit their official website.