Watching 'Ms. Marvel' felt like we were watching an eerily similar version of ourselves on-screen.
Marvel Studios' 'Ms. Marvel' is a new, original series that introduces Kamala Khan, a Muslim American teenager growing up in Jersey City. The series, like 'WandaVision' and 'Loki' before it, was created exclusively for Disney+, and features Marvel's first Muslim superhero character played by Pakistani-Canadian actress Iman Vellani in her onscreen debut.
The team here at ZYRUP Magazine had the opportunity to preview the first two episodes of 'Ms. Marvel' (we talked about our opinions about it in another piece). Watching the episodes, we found ourselves having many shared experiences with Kamala, as young Asian females ourselves.
Here are 5 of the most relatable moment from the show.
1. The "University Talk"
In the first episode, Kamala was called to the school counselor's office to discuss her next steps, in preparation for college and her future. In a short span of five minutes, Kamala was bombarded with a list of things required from her – essays, college admissions, SATs, volunteering to beef up her portfolio, and the list goes on. Her lone figure sitting there overwhelmed and confused totally gave us a deja vu moment as she aptly blurted out, "Do I have to figure out my whole future before lunch?". Having just graduated from junior college, the days of prepping tirelessly for the 'A' Levels and worrying about University are still extremely fresh in my mind – I definitely do not want to relive those days again.
2. #Fangirling 
Kamala's intense love and admiration for Captain Marvel is made strikingly obvious throughout the series. From cosplay conventions to posters on the wall to incessant talk about superheroes, it isn't hard to tell that she's obsessed. In the first episode, she prepares an entire speech just to convince her parents to allow her to go to the AvengerCon – kinda reminds us of ourselves, except our AvengerCon is a Harry Styles concert.  Like Kamala, our rooms are plastered with the faces of our favourite celebrities and we spend hours upon hours scrolling through various social media platforms trying to keep up with their lives every single day. Watching 'Ms. Marvel' definitely brought back fond memories of our 'fangirling' phase. 
3. Arguing with Our Parents
After some major setbacks to her plans to attend AvengerCon, Kamala blurted out some hurtful words to her parents in a fit of anger. Shocked and disappointed, her father even teared up (#RealMenCry, so it's totally fine, but anyway). This was just one of the many moments of tension that the family had in just the first two episodes. Kamala's frustrations with her parents certainly reminded us of our own tiny arguments with our own. Although we have been in the exact same positions before, we definitely felt a slight pang of guilt watching it from an outsider's perspective.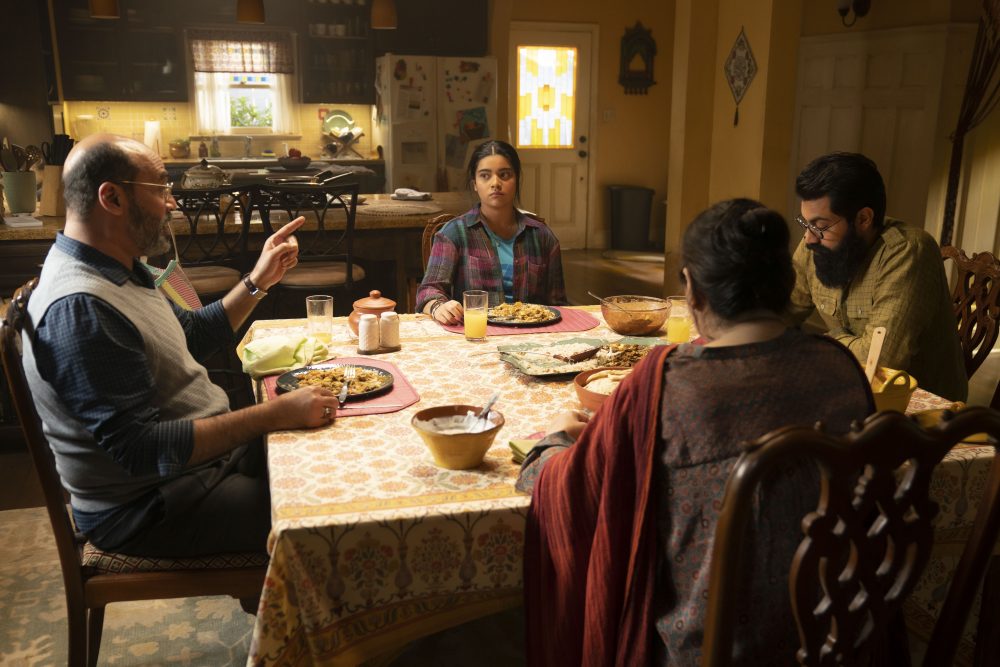 4. Facing Double Standards 
Those of us girls who grew up with brothers would have a lot in common with Kamala. We experienced getting doted on and spoiled by our parents, but with that also comes an "overprotectiveness" that can feel overbearing at times. We start to compare ourselves with our siblings who seem to always get their way. Why does kor kor get to go on a spontaneous trip to JB, but I have a curfew and need to constantly update my parents about my whereabouts every hour? Luckily for Kamala, her older brother, Aamir (played by Saagar Shaikh), who is always there to back her up when she faces her strict parents.
5. Cultural Celebrations
In celebration of Eid, the characters gathered together for a bustling festival filled with food stalls and game booths. They walked around exchanging greetings and well wishes with their friends and family, reminding us of our experience with festive holidays here in Singapore as well. The lively atmosphere at their festival paralleled that of our very own Geylang Serai Ramadan bazaar with a wide assortment of traditional foods and fun activities.
Pakistani and Muslim culture is heavily featured throughout the show as well. We see Kamala incorporating Pakistani elements into her Captain Marvel costume to celebrate her culture. Her pride in her culture and heritage was heartwarming to see, especially in a time where more young adults are looking to celebrate their individuality and culture by reconnecting with their roots. 
The long-awaited series 'Ms. Marvel' is set to premiere exclusively on Disney+  June 8th, 2022. Head over to Disney+'s Instagram page (@disneyplus and @disneyplussg) for more exciting updates!