From being a songwriting prodigy to being a TikTok-fuelled pop star, Salem Ilese is one to watch.
With her quirky and pop culture-adjacent lyrics (just listen to 'Mad At Disney', the mammoth 2020 viral TikTok hit), Salem Ilese rose to fame at the height of the global pandemic, and is now a bonafide pro at using the short-form video platform to connect with her fans and also to showcase her love for music. 
Her global success may have happened overnight, but it is clear that this young songwriter has long been committed to her craft. In fact, her songwriting journey started at the age of 10 when she began classes in San Francisco. When I was 10, my biggest achievement was watching Disney channel for 6 hours in a day and still managing to complete the 10 year series. 
Before anyone could dismiss her as a one hit wonder, she then joined forces with Norwegian producer Alan Walker and Yeonjun and Taehyun of K-pop boy group TXT for her latest single, 'PS5', creating an irresistibly ear-catching, addictive song that gives 'Mad At Disney' a run for its money. 
Having written TXT's hit 'Anti-Romantic' from their 2021 album The Chaos Chapter: FREEZE, she was in the prime position to make the collaboration work. As Kpop and the West continue to blur their lines, Salem and TXT gave the world a blueprint to follow – just watch how comfortable she was on stage performing 'PS5' live during TXT's World Tour 'ACT:LOVE SICK' at Los Angeles in July earlier this year. 
When Ilese was in town for a promotional stop, ZYRUP Magazine got to speak with her in person, and she shared how the massive but unexpected collaboration came about,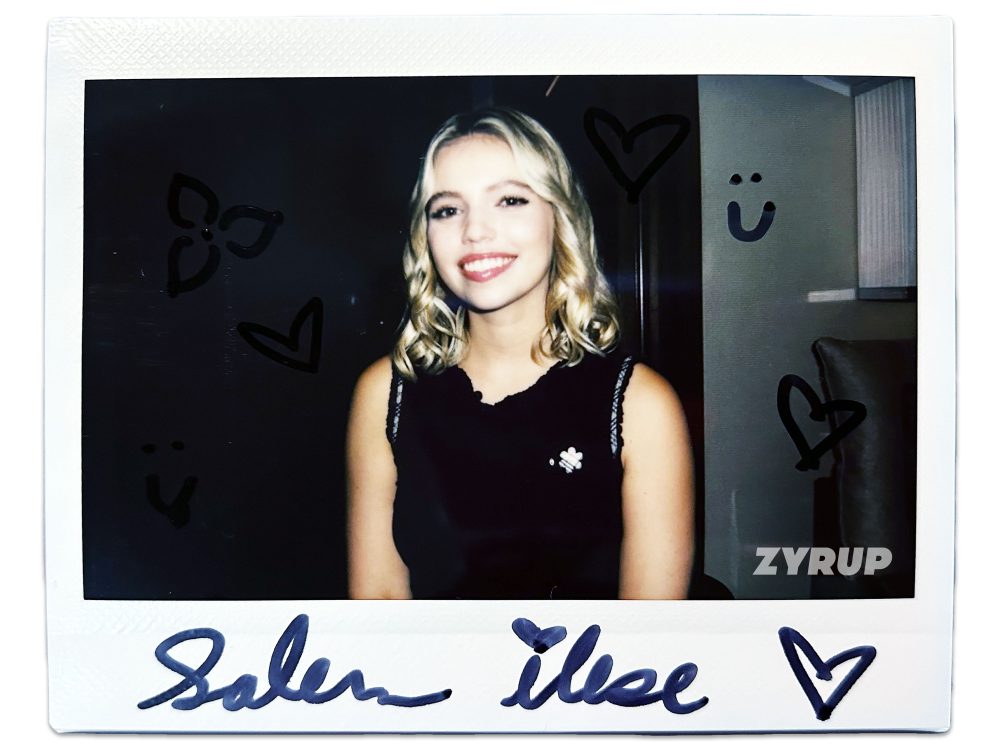 ZYRUP Magazine: Thank you for speaking with us! While preparing for this interview, everyone in the ZYRUP office was bopping to 'PS5'. Alan Walker, TXT, and Salem Ilese! How did that come about?
Salem Ilese: Yeah, that was fun! Originally, it was called 'PS4'. I wrote it before the 'PS5' had come out, and I sent it to Alan Walker after we worked on 'Fake A Smile' together. I know he's a gamer and I thought he would find it kind of funny. So once it was 'PS5', I thought, "Hey, I thought you'd enjoy this since you're a gamer. Feel free if you wanna add anything to it or if you wanna hop on it, that would be awesome." So he actually sent back new production on it and he re-wrote the second verse and chorus to make it the gamer's perspective. I was like that is so brilliant, I love this! And now, we need another feature. I just recently worked with TXT for their song 'Anti-Romantic' and I thought it'd be really cool if I could get them on it. I sent it not expecting a response or anything, and they said, "We love it, we love to be on it!" And it all worked out really well!

Recently in July, we saw you onstage performing with TXT. How was it like working with them in real life?
S: It was so fun! I got to perform with them three times actually which was such a treat. The first time was in Los Angeles for their tour, and it was so cool seeing their fanbase, which is called MOAs. They just have the most loving and excited fans ever. I got to watch their whole concert and I was shocked by their energy on stage because they were never out of breath. I was already panting after finishing my set with them. And they were sweet enough to come to my first ever headlining show in Seoul, it was such a dream because we got to do 'PS5' there and in Tokyo at Summer Sonic.
You visited Korea now and you've collaborated with a Kpop boy group. By any chance are you dipping your toes into Kpop?
S: Oh definitely yeah! I'm a really big fan of Kpop in general. I listen to a lot of it so it's really fun to write. I'm also working with LE SSERAFIM, which is an awesome Kpop girl group. They're so sweet, I got to meet them in Seoul. I'm very excited for the next song to come out, I co-wrote it and they just sound so good. They really made it come to life!
Now you talked about songwriting, so I'm just gonna talk to you about the songwriting process. How do you get inspired as a songwriter?
S: Well, I always start with a topic or a concept. I'm definitely very lyrical and they usually just come from the things that I see in my everyday life. Whenever I'm talking to someone and they say something interesting, I'd pull out my phone and I would write it down.
At the showcase, you talked about 'Moment Of Silence'. Why did you want to write that song?
S: I mean, I really feel like I needed to write that song, and it was very difficult because that message means so much to me but there's just been so much going on right now in the US and all around the world regarding reproductive rights. For me it's just so hypocritical that our country will take away the right to save healthcare but they will not do anything to ban the guns and the violence that has been happening. It really hit me so I feel like I really needed to write that song for myself but also I feel like it's an important message.
As a songwriter, do you get scared when using your platform or music to talk about certain things that you know people might have a certain reaction to?
S: Not as much scared. I always kind of expect there's always gonna be a negative backlash on anything that I put out just because there's a lot of mean people on the Internet. Thankfully, I've been surrounded by really sweet people so that always outweighs the bad that I see. As long as I know that the message is true to me and it's what I believe in, and I put out something authentic having the possibility to help people then I'm happy.
Beautifully said! Now let's go back all the way from the beginning on how you started songwriting in the first place. Were there any inspirations that you looked up to or how did you even get into it?
S: I've been songwriting for as long as I can remember. I started singing when I was 4 and I would just sing about whatever was happening to me. I'd make up little songs about my toys and my stuffed animals, and I would sing to them. That was kind of just my whole childhood and I'm the only child so I had a lot of alone time. I would just sit in my room and sing to myself all the time, and that's where it all started. Thankfully, my parents caught onto that so they put me in classes and I did musical theatre for a while.
I read somewhere that you actually stopped school to do music. Was that right?
S: Yeah, I dropped out of Berklee College of Music after two years.
What was that decision process like for you? Were you like, "I think it's time for me to move on."?
S: I had taken all of the classes that I was really excited about and I feel like I got a lot out of Berklee. I met some amazing people and at the time everyone that I was working with including all my band members they were graduating and moving to LA, and I was thinking 'Oh boy, you're all gonna go. These are all my collaborators. My band is who I play with. Every single week we do gigs.' So I kind of had to start over when everyone left and I thought it was also time for me to go to LA. So it was just a decision and it was honestly not that hard to make because I was just so confident in it and I'm really glad that I did it because I've been playing with my band ever since. They were with me in Korea and Japan, and we just had the best time. So I was very grateful I was able to make that decision.
Let's talk about 'Mad At Disney', your massive hit. At what point did you know it was like a huge hit?
S: Oooo! I don't know! I remember when the first TikTok went viral, I kind of thought like a big practical joke was being played on me because I just cannot believe that it was actually happening. I think the first one got a million views in a day and that was like the biggest number of anything that I'd ever experienced in social media so my mind was just absolutely blown. I remember people just kept using it on TikTok and it kind of just took a life of its own. It was just so incredible to watch. It was also such a weird experience because it was all during the pandemic. I was just on full lockdown in LA and I couldn't even see my friends to celebrate. I was like Zoom calling my family because I hadn't seen them. I remember the last I saw them was before the pandemic and then the second time during the pandemic was after Mad At Disney had blown up. It was such a weird thing to see them because so much has changed but also nothing because I've been in my apartment the whole time.

I'm sure with 'Mad At Disney', life has changed. What has been the key changes that you really appreciate?
S: I mean, I'm here right now! That is definitely one of the big ones. 'Mad At Disney' has opened so many doors for me, it has let me do a lot of amazing things like travel to Singapore and travel all around Asia, and play these incredible shows. Summer Sonic was one of the most surreal things ever, there were thousands of people and they were all singing along when I sang Mad At Disney. It was so cool! Just being able to meet so many awesome people and also collaborate with so many amazing artists that I look up to in Los Angeles.
Who are some of the people that you would love to work with in the future?
S: I've worked with some amazing people so far. I recently worked with Demi Lovato which is like one of the most crazy things that has ever happened to me. I got to co-write on two of her songs in her new album which is such an honour because I'm such a big fan and I love the album so much. It's like so rock and awesome. So that was really amazing. I would really love to work with people in the rock space and do more music like that. Also because that's what I listen to a lot so I would love to work with some bands. I really like YUNGBLUD, I think he's super cool. I listen to stuff that's very different from what I make but recently I've been trying to make that seep into what I make a little more.
Now, let's talk about the "Salem Ilese" brand. The music that you do, for me, is just something so fresh to listen to; it is always very relatable to as a listener. Is that something that you're consciously doing as you're writing or is it just letting it flow?
S: I feel like relatability is gonna be inevitable just because everyone experiences the same set of emotions. If I just continue to write about my own personal experiences then it has to be relatable to someone. Even though my own human experiences is unique to myself, we all go through very similar situations.
One last question! What can we look forward to from Salem Ilese in time to come?
S: I'm working on an album and I played a lot of it live at Summer Sonic so if you happen to catch any of those shows, you've already heard some of my new songs. At least a quarter of the songs are rock-influenced and there's some pop songs, some ballad, it's all kind of a mixed but I'm very excited about the rock portion!
While waiting for Salem Ilese's upcoming album, stream her music (including 'PS5' and 'Mad At Disney') on Spotify now.
Original interview by Joel Lim, article by Afikah Azlan.