In the first post-pandemic New Year's Eve, here are the 2023 countdown events you can look forward to.
Looking for a special place to celebrate the New Year with your friends or loved ones, but have no idea where or how? ZYRUP Magazine presents you a list of fantastic places to celebrate 2023, that range from the boisterous to the intimate. 
1. STAR ISLAND Singapore Countdown 2022-2023
For a concert-esque vibe, try STAR ISLAND, a seventy-minute hanabi (fireworks) musical extravaganza that will raise the pulse and fill the heart. The star of the show (see what I did there?) will be specially designed award-winning fireworks that change colours in the night sky. We've been to a previous iteration of the show and let's just say that it really does live up to its hype.
This year's show includes artisanal "Ghost Effect Shell" fireworks which have been designed to bloom in Singapore's stunning colours, a red-to-white gradation across the sky. 10 bursts of fireworks bestowed with the "Prime Minister Award" earlier this year at Japan's Omagari Fireworks Competition will also paint the night skies of Marina Bay for the very first time, each firework hand-crafted by Japan's finest firework artisans.
And, if you're a Sanrio fan, you absolutely can't miss this event – at STAR ISLAND, you can get the chance to take photos with your favourite Sanrio characters! Ticket-holders can also look forward to pre-show entertainment, family-friendly activities, play areas and F&B offerings, and more. Tickets for the main show are now on sale, ranging from $68 to $318. Book your tickets and more information here. 
2. Let's Celebrate 2023 by Mediacorp
Participate in a riotous countdown party to the start of 2023 and enjoy performances by local and regional talents such as Glenn Yong, Shilah Amzah and Desmond Yong, and many more. We'll also be cheering alongside the magnetic hosts – Germaine Leonora Tan, Maya Nicole Davidov, Kishan J and Zhin Sadali. Hunker down with your friends on a picnic mat near the stage and relish tasty light bites and refreshments provided at the venue. Try your luck in lucky draws – maybe even impress your friends at carnival games! Snap Instagram-worthy pictures of spectacular fireworks, and even take a BeReal with our brilliant regional talents.
Look out also for a unique Bullet Time Photo Booth onsite, where you can create personalised New Year's greeting videos to share with family and friends. For young people on a budget, don't worry, Let's Celebrate 2023 is completely free. More information here.
3. New Year's Eve With Nicky Romero by MARQUEE Singapore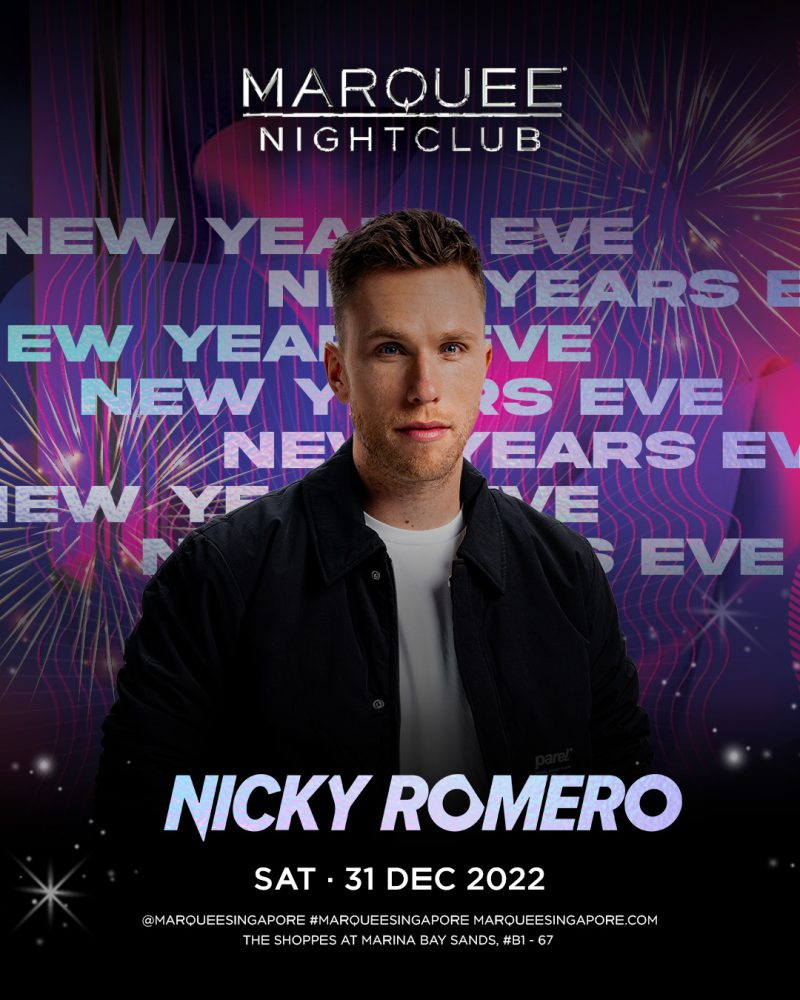 For those looking to ring in the New Year with hard-thumping beats on the dance floor, look no further than MARQUEE Singapore. Nicky Romero has progressed from being a young musical wunderkind to becoming one of the most influential artists of his time. As a DJ, producer and mogul whose label is at the forefront of modern electronic dance music, it goes without saying that Nicky is a force to be reckoned with. Usher in the New Year at Marquee Singapore with Nicky Romero on 31 December. Ticket prices range from $80 to $250. For more information and to book tickets, click here.
4. Skechers Sundown Live Countdown Party at Sentosa
Skechers Sundown Festival launches a new one night, single stage event – Skechers Sundown Live, to usher in the new year this December 31 at Palawan Beach Sentosa. A stellar line up of Asian artists including DJ Pin, DJ Inquisitive and headlined by internationally acclaimed DJ Soda from Korea. Known for her blend of hard dance and hip hop and bubbly stage persona, DJ Soda is back in Singapore once again after her previous set on Sundown Festival 2019.
The event will also feature fringe highlights for the whole family, including pets. As part of Sundown Festival social cause mandate, Sundown Live will be donating proceeds collected from charity massage available at the event to the Singapore Association of the Visually Handicapped. Other fringe highlights will feature film screenings, face painting for children, scratch art, a food village. Parents, pawrents and their families get to spend the last day of 2022 out by the sea before the venue turns into a celebration of Asian music by Asian artists. Ticket prices range from $10 to $58. More information and ticket booking here.
Regardless of where you choose to ring in 2023, the team at ZYRUP Magazine would like to wish you a very Happy New Year! We're looking forward to seeing all your celebratory Instagram posts and BeReals.
See you in 2023!